Cover Classics takes a closer look at all-cover albums of the past, their genesis, and their legacy.
It is hard to remember that in 1998, when Mermaid Avenue was released, Billy Bragg was a well-respected leftist folkie, a former busker who had progressively cleaned up and expanded his sound, and he was probably at the height of his commercial popularity. By contrast, Wilco, which was struggling to emerge from the shadows of Uncle Tupelo and Son Volt, had released two albums – a debut that was not fawned over, and a follow-up that was critically adored, but far from a hit. The idea that within a few years, Wilco would become a critical and popular success, serve as an example of the music industry's bizarre decision-making process, headline places like Madison Square Garden, and curate its own summer music festival, would probably have been scoffed at by most, including Jeff Tweedy.
Keep in mind as well that in 1998, the idea of putting out an album of unrecorded Woody Guthrie lyrics with brand-new music was a bit unusual, but after Mermaid Avenue, it became almost common. Later albums from artists such as Jonatha Brooke, The Klezmatics and even Tweedy's former Uncle Tupelo bandmate and nemesis Jay Farrar (along with Anders Parker, Will Johnson and Jim James) have followed this theme, as have single songs by artists as diverse as the Navajo group Blackfire and the punk provocateurs Anti-Flag. So, Mermaid Avenue was not only fabulous music, it helped to spawn a revival of interest in the music of Woody Guthrie, which can only be a good thing.
Guthrie was born in 1912 in Okemah, Oklahoma, and if you called him the most influential American folksinger and songwriter of all time, there probably wouldn't be much of an argument. His body of work is stunning, to the point where many of his songs are often confused with "traditional" songs. Guthrie's impact on generations of musicians, directly and indirectly, cannot be overstated. In addition, he was an icon of progressive politics, which has also influenced folk and rock music's continued identification with the poor, oppressed and downtrodden.
By the 1990s, though, the time was ripe for a Guthrie revival.  Woody's daughter Nora, the director of the Woody Guthrie Foundation (and Arlo's younger sister), approached Bragg, who seemed both musically and politically aligned with her father, and offered him the opportunity to search the trove of unpublished poems and lyrics in the Foundation's archives, for the purpose of setting some of them to music. Bragg brought in Wilco, a politically involved band that was steeped in American music from folk to punk. They immersed themselves in the archives and chose a batch of lyrics to turn into songs. 
What made Mermaid Avenue special was that, rather than try to write in Guthrie's style, Bragg and Wilco decided to write as it they were working with Guthrie in current times. Therefore, the music, although necessarily informed by their own roots, was modern and accessible. Bragg once said, "As far as I was concerned, the agreement I got from Nora was to collaborate with Woody Guthrie, not to imitate him." You can debate whether this approach leads to the creation of covers per se, but for the purposes of this blog, we will say "yes."
Ultimately, Bragg, Wilco and additional guests (including Natalie Merchant and Corey Harris) recorded enough material for at least three discs, but today's focus will be on Volume I. Its release was met with an incredibly positive reception, which is not surprising considering the quality of the music, lyrics, and performances.  The album received a Grammy nomination for Best Contemporary Folk Album (losing to Bob Dylan's Time Out Of Mind), and finished fourth in the Village Voice's über-cool "Pazz & Jop" Critic's Poll (behind Lucinda Williams' transcendent Car Wheels on a Gravel Road, Lauryn Hill's The Miseducation of Lauryn Hill, and Dylan's Live 1966 – fair company, that).
Of course, considering the give-no-quarter personalities involved, stories of dissension and feuding between Bragg and Wilco have circulated for years.  Anyone who has seen I Am Trying to Break Your Heart, about the making of Wilco's breakthrough Yankee Hotel Foxtrot, knows that Tweedy and Jay Bennett were not easy to work with, and Bragg is also someone with strong ideas.  But that tension didn't detract from the quality of the work, and may in fact have added to it. 
It is difficult to choose a favorite among the songs on the album.  But here is a video of Wilco performing "California Stars," at last year's Newport Folk Festival, which commemorated the centennial of Guthrie's birth. The female singer is Sarah Lee Guthrie, Woody's granddaughter and Arlo's daughter. 
It was fitting that at a festival honoring his centennial, Woody's descendants were all over Newport last summer, including performances by the "Guthrie Family Reunion." Here's a picture of a Kid's Tent performance by Sarah Lee, her husband Johnny Irion, and a bunch of young members of the next generation of the family—Woody's great-grandchildren, continuing the tradition.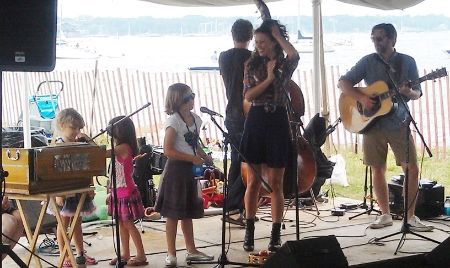 Here's Billy Bragg performing another favorite, "Way Over Yonder In the Minor Key," in 2008.  This is a fine version, although it misses Natalie Merchant's vocals:
Unfortunately, either because of the tensions between Bragg and Wilco, or because Wilco wanted to work on their next album, or both, there was no tour, and no videos of live performances of the whole Mermaid Avenue crew exist.
The popularity of the album resulted in the release, in 2000, of Mermaid Avenue Vol. 2, which was also good, although it did suffer from slightly weaker material and lack of the surprise factor of the first disc, and wasn't as universally lauded (it only hit 32 on Pazz and Jop, and got no Grammy nominations). A box set, including the first two discs, plus another disc of outtakes and a DVD of the making-of documentary, was released in 2012 in connection with the centennial celebration of Woody Guthrie's birth .
Here's a bonus cover from Arlo, Nora, and other members of the Guthrie Family Reunion, at Newport last summer, singing "This Land is Your Land." You also get to hear Arlo tell a funny story about his father (warning—the video cuts off a bit earlier than it should).
One thing that became clear from this project is that Woody Guthrie is not just a polemicist or an observer of the plight of the underclass — some of the songs are very funny, some are sexy, and some are just goofy. Not that he needed it, but the Mermaid Avenue project further demonstrated the genius of the man, and brought this genius to a new audience.
If you are interested in Mermaid Avenue you should probably just get the box set, available from Amazon and iTunes.
Cover Me is now on Patreon! If you love cover songs, we hope you will consider supporting us there with a small monthly subscription. There are a bunch of exclusive perks only for patrons: playlists, newsletters, downloads, discussions, polls - hell, tell us what song you would like to hear covered and we will make it happen. Learn more at Patreon.